From Summer 2021 – January 2022, I collaborated with my daughter artist Eriko Tsogo on a public mural project called the "Four Harmonious Friends of Colorado" funded by the Urban Arts Fund (UAF) in collaboration with Denver Public Art, Hampden Public Library, Denver City District 4 Councilwoman Kendra Black, and the Uran Biir Colorado Mongolian Art School.
The mural is due to be installed at the Hampden Public Library with an upcoming dedication ceremony scheduled in early March 2022.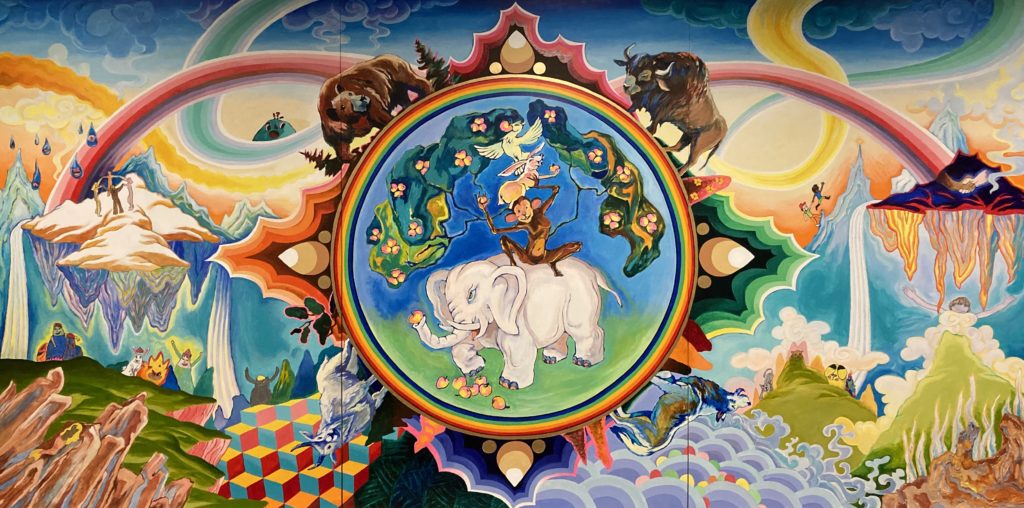 Story Behind the Mural
Our mural is inspired by the Eastern mythology of "The Four Harmonious Friends". Through symbolism and motif, the mural depicts Colorado's mythology. The composition consists of a central mandala design surrounded by fantastical landscape. The mural uses traditional Mongolian art, Thangkha and ornamental pattern styles of painting.
The central mandala represents the circle of life. Inside the circle, rests the four harmonious animals (Bird, Rabbit, Monkey, Elephant). The four animals represent the different habitats of the animal world—the sky, the trees, the ground, and underground. The four harmonious animals influence the human kingdom to be moral signifying the importance of interdependent cooperation despite differences in size, strength and species.
The outside ring of the mandala represents Colorado's nature with mountains placed at the four cardinal directions (North, East, South, West). The mountains are separated by Colorado's four spirit animals: the Buffalo, Black Bear, Wolf, and Mountain Goat. The range of animals depicted represent the diversity of our world; inviting peace between cultural communities, harmony, co-operation, interdependence and friendship.
The mural speaks of unity, integrity, friendship, generosity, and selflessness for the greater good. Underlying too are the themes of respecting the spiritual potential and of animals and environmental harmony.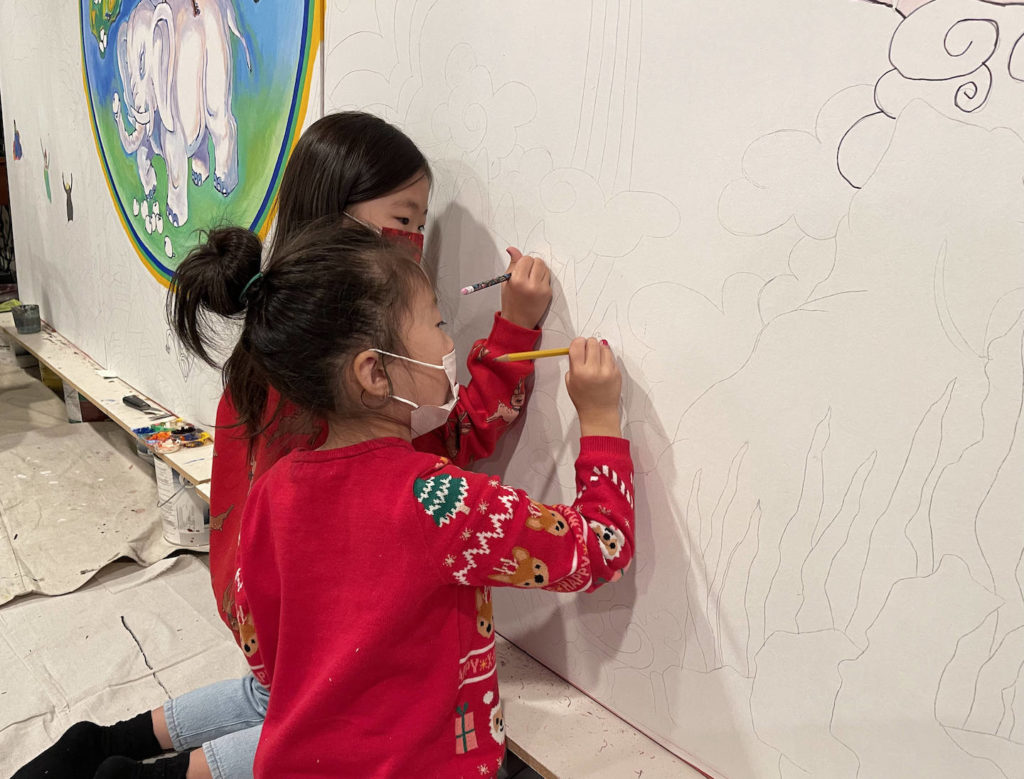 Community Engagement
As part of the community engagement component of the project – we collaborated with the Uran Biir Colorado Mongolian Art School students grades K-12. Over 17 students participated in the workshop. Taking inspiration from the folklore, students designed and painted characters on the mural based on themes of unity, diversity and friendship.